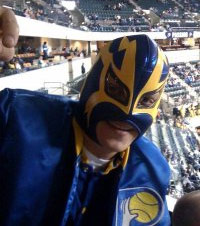 El Pacero is the Women's Wrestling Champion of the World and #1 Pacers fan.
Born and raised in Indianapolis as a huge Pacers fan, El Pacero followed his dreams of becoming a professional luchador and moved to Mexico City. After training in the art of Lucha Libre wrestling, he quickly became the CMLL Women's Wrestling Champion and holds the same title with the AAA Mexican wrestling league.
When Reggie retired, El Pacero returned to Indy to help YOUR Indiana Pacers restore the passion, pride and love for wrestling Pacemates.